What Not To Do Before a Mammogram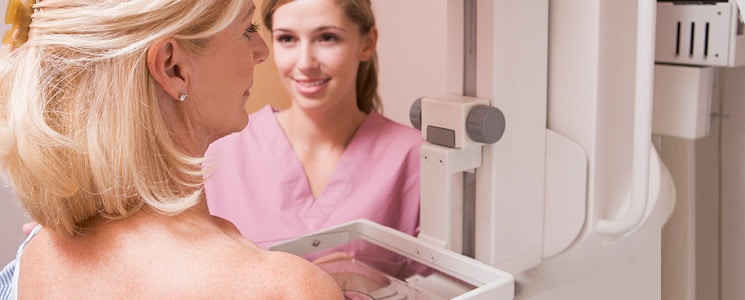 DON'T apply deodorant before your mammogram.
Also refrain from using perfume, lotion, creams, and any other substance on and around your breasts, including under your arms! These can show up in the mammogram screenings as white spots, causing inaccurate readings. Feel free to bring these with you to apply after the exam. If you forget, no need to worry, but our staff will ask you to wipe it off prior to the mammogram.
DON'T wear a dress or one-piece outfit.
It's best to wear two pieces (pants/skirt with a top) so you can keep your bottoms on during the exam.
DON'T go right before or during your period.
Your breasts may be more tender/swollen around this time, which can cause extra discomfort during the mammogram. If you're premenopausal, the best time to go is about a week after your period.
DON'T consume caffeine products (coffee, chocolate) several days up to two weeks before the appointment.
Although this will not affect your mammogram results (so no worries if you do accidentally have some), it could cause breast tenderness for women who are sensitive to caffeine.
DON'T worry if you've had prior mammograms at other facilities.
No need to bring anything – our staff can get your previous records and films for you.
DON'T worry about getting a doctor referral or prescription.
At PURE Mammography, no prescription is needed for a screening mammogram. However, our staff will request the name of your health care provider to send a copy of your mammogram results to.
DON'T be scared!
Although some women may feel some pain during a mammogram screening, most women only feel a slight discomfort. Additionally, you don't need to worry about radiation exposure, which is minimal. The peace of mind you'll get knowing that you're protecting yourself from a late stage cancer diagnosis is worth the discomfort!
What you CAN and SHOULD do before your mammogram screening
DO eat!
There's no need to fast before a mammogram, as it will not affect the results. Feel free to eat, drink, and take medication.
DO let your mammogram technologist know of anything that may affect your breast cancer risk.
This may include breast changes, medical history, family history, etc.
DO take an OTC pain medicine (if you want).
Feel free to take Advil, Ibuprofen, etc. if you're worried about pain or have experienced pain during past mammograms. However, at PURE Mammography, our technicians are very gentle and try to make mammograms as painless and comfortable as possible.
DO choose an experienced and certified mammogram facility, such as PURE Mammography!
We are an American College of Radiology (ACR) accredited facility and an ACR Breast Imaging Center of Excellence. PURE Mammography specializes in performing 3D mammograms, so you can be sure that our staff will make your screening experience as comfortable and stress-free as possible. We are located in the Smith Haven Mall on Long Island, so you're free to make an appointment beforehand or simply drop by during your shopping trip.
Read what our patients are saying!
So easy! Very nice employees! The waiting room was like a spa with comfy club chairs and a flat screen video showing relaxing ocean waves on a beach. The radiologist was very professional and polite. My husband didn't mind sitting in the waiting room especially since he was served coffee. Lol. Total time there was 20 mins. I left feeling very good in having accomplished something very important for my health.– Valerie R.
Click here to read more reviews.
Schedule an appointment at our spa-like mammography center by calling 631-652-3424 or by filling out the form on this page.
---
Related Materials:
Frequently Asked Questions (FAQ)
Tour Our Facility
Patient Testimonials
Spa-Like Experience
About PURE Mammography