Different Types of Mammograms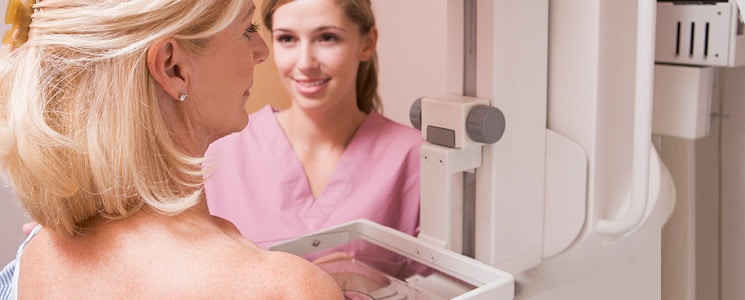 What Types of Mammograms are there?
There are a few different types of mammograms: there are screening mammograms, used to detect signs of breast cancer, and diagnostic mammograms, used to diagnose abnormal screening mammograms and visible breast cancer symptoms. Both screening and diagnostic mammograms can either be 2D (traditional) mammograms or 3D mammograms, also known as breast tomosynthesis. Learn more about the different types of mammograms below.
Screening Mammograms
Used to detect signs of breast cancer in women who have no symptoms
The x-ray images make it possible to detect tumors that cannot be felt
Should be performed annually at age 40 and older
After the test, a radiologist interprets the images and informs the patients of the results within 30 days
The current test is compared to previous ones to find tiny abnormalities
Most of the time, results are normal
Diagnostic Mammograms
Used to diagnose abnormalities found in a screening mammogram or when other symptoms have been found (lumps, nipple pain, discharge)
Takes longer to perform than a screening mammogram and the total dose of radiation is higher because more x-ray images are needed
A radiologist will be on hand to immediately interpret the results
Additional imaging may be necessary, such as an ultrasound or biopsy
Results are usually either (1) the abnormal trait turns out to be normal, (2) the abnormal area is not cancerous, but should be monitored, or (3) the abnormal area may be cancerous, and a biopsy is required
2-D Mammograms
Traditional digital mammogram
Flat, 2-D images
Can be limiting due to overlapping layers of tissue, which can sometimes produce unclear results, false alarms, or missed cancer signs
3-D Mammograms (Tomosynthesis)
A newer type of digital mammogram in which x-rays take pictures of thin "slices" of the breast from different angles which are then constructed into a 3-D image using computer software
Allows your radiologist to examine your breast tissue one layer at a time, resulting in a higher accuracy of breast cancer detection and lower callback rate
Better for women with dense breast tissue, since both dense breast tissue and cancer appears white on a mammogram; by viewing the breast as layers, a radiologist is better able to differentiate the two
No additional compression is required (same level of discomfort), but takes a few longer seconds for each view compared to 2-D mammograms
Can be more expensive than 2-D mammograms, but PURE Mammography offers 3-D mammograms at no extra cost
Patient Testimonial
"I was at the mall and went passed the sign and asked them what it was about, I had just got a referral regarding getting a mammo, so I asked if I can get one, the people there where so friendly made me and my daughter feel so comfortable!! I recommend this place to all woman!!" – Paula B.
Have Questions? Visit our FAQ Page or Contact Us.
To learn more or to schedule a screening mammogram at our spa-like mammography center in the Smith Haven Mall in Lake Grove, NY, call 631-652-3424 or by fill out the form on this page.
---
Related Materials: